Are You Struggling to Help Your Child Master Phonics?
If you're like most of my readers, it's hard to find time in your day to help your child learn to read, or read better. The problem that most parents are facing, is that a majority of schools expect children to waltz into kindergarten, already reading on a basic level! This would be great, but not totally realistic for most kids.
I have spent countless hours researching and trying out different reading programs, in order to find the best online phonics reading programs that will help your kiddos learn to read faster and more effectively.  For those of you who need help due to time constraints or something else, I would love to share!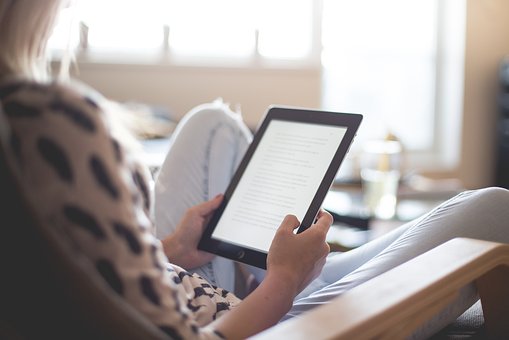 Please Be Patient and Experiment…
As I tested these programs out, I found that some of them worked well, but others, not as well.  Not all of these programs will make your child a successful reader all at once.  All kids have different learning styles.  What works with one child may not work with another.  You just have to experiment.
However, by using many of these programs, my pre-k and kindergarteners made leaps and bounds as they learned to read phonetically.  My older kiddos also improved their reading, writing, and spelling skills dramatically, and increased their reading Lexile levels at school! What a win-win situation:)
I think that some kids just seem to learn more and better when they are using technology.  I believe this is due to the way our society is wired.  Kids are taught to use technology in school from an early age.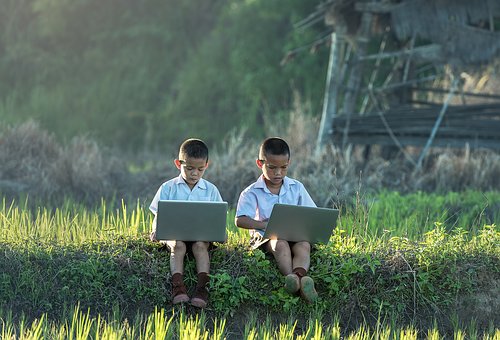 The programs that I am going to share with you are geared for children, ages 2-12, and in my opinion… are some of the best online phonics reading programs available today! This doesn't mean there aren't other programs out there.  This is solely based on my experiences with my tutoring kiddos.   So…let's get started!
Affiliate Disclosure
I would like to be open and transparent with you, as parents and caregivers. When you buy something from the websites listed on my site, I may receive an affiliate commission. I never recommend poor quality products, or create false reviews to make sales.  The opinions I express are not representative of the companies that create these products.  It is my intention to explain products in such a way that you can make informed decisions on which ones best suit your needs. 
As an Amazon Associate, I earn from qualifying purchases.
ABCmouse.com
In another post, I wrote about this terrific phonetically based online program.  The ABCmouse.com curriculum is geared for kids, ages 2-8, and basically begins with teaching the letters of the alphabet, and the sound that each letter makes.
ABCmouse.com Curriculum
ABCmouse.com is a 10 level course, with almost 900 lessons that will not only teach your child to read, but keep them engaged for hours on end!  As your child shows mastery of one skill, he/she will then be guided to the next lesson.  It's much like being in the classroom. However, the teaching is done with online lessons and activities.
In addition to teaching both upper and lowercase letters/sounds, this reading/language arts program also incorporates word families, rhyming words, and writing skills, such as sentence structure, and parts of speech.
Once your child has mastered phonics, the ABCmouse.com program has close to 500 books for your child to read, starting with beginning readers.  This is one of the best online phonics based reading programs available, in my opinion!
Pricing:
The price for this particular program is around $12.99 a month, after your first two months @ $5.00! If you're interested in trying it out, you can visit the abcmouse.com site, or simply click  ABCmouse.com.
ABCmouse/Reading IQ
In addition to the ABCmouse.com phonetics reading program, they have also partnered with Reading IQ, which is a wonderfully huge digital library for kids, ages 12 and below.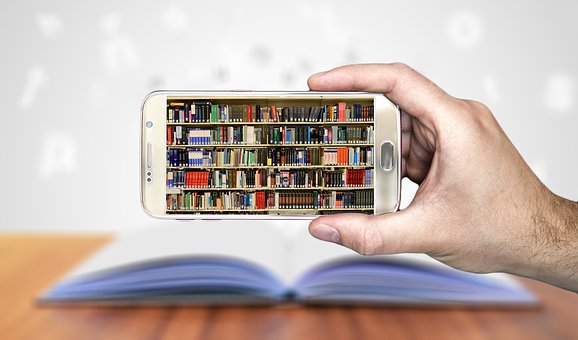 In the Reading IQ program, there are well over 7,000 digital books with the different Lexile levels that will match your child with books that are appropriate for them based on their reading levels. These books are leveled, beginning with picture books, and simple to read stories for kids, ages 2-5.
From there, they offer a wide assortment of early chapter books, fiction and non-fiction books, and many Caldecott and Newbery Award winners!
Availability and Pricing:
Reading IQ is available for desktops, tablets, and smart phones. The current price is $39.99 a year.  In addition you can have up to 3 kids on one account. If you're interested in gaining access to Reading IQ, you can click the link, or simply go to readingiq.com.
Reading Bear
Reading Bear is a free online phonics/vocabulary program for kids, ages 4-7. Kids can access Reading Bear on computers, laptops, and iPads. However, in order for this program to be effective, your child needs to know the letters of the alphabet, and the sound that each one makes.
This program introduces different presentations, beginning with word families. Each presentation is about 15 minutes long, and presents each phonetic word in seven different ways by:
Sounding out the word slowly
Sounding out the word quickly
Letting the child sound out the word
Audio Flashcards with pictures
Silent Flashcards with pictures
Audio Sentences- Shows the sentence with the phonetic word, and reads to the child.
Silent Sentences- This is where the child reads the sentence that contains the phonetic word.
At the end of every five lessons, your child has the chance to take a quiz to see how well they have mastered the words.  Eventually, your child will learn digraphs, blends, and so much more.  This is a good program, but I recommend that it be used in conjunction with another phonics program to gain mastery.
Pricing and Site Info.
As stated before, Reading Bear is a completely free online reading program!  If you're interested, please visit readingbear.org..
Reading Eggs
This is a terrific online phonics program for kids, ages 2-13.  Reading Eggs is a comprehensive reading program that will guide your kids from learning letters/sounds, through the entire phonics process!
I love this program because it was created by an extremely experienced group of elementary school teachers, as well as proficient writers and technology developers, in order to give children an easy to follow, self paced reading experience.
The 5 Essential Keys to the Reading Eggs Program's Success
This program works off of 5 basic reading principles:
Phonemic Awareness
Phonics
Vocabulary
Reading Comprehension
Fluency
Each lesson uses fun animated characters, songs, and rewards to keep kids motivated to progress to the next level.  In addition, parents can have multiple kids on one account, and track their progress with detailed progress reports, as well as being able to utilize hundreds of activity sheets, corresponding to the lessons, that can be downloaded to reinforce the skills learned.
Appropriate Age Skill Levels
Reading Eggs comes in 4 different age level stages:
Reading Eggs Jr. is for kiddos, ages 2-4.
At this "First Steps" stage, letters/sounds are introduced, as well as a host of other activities that children will need to know before kindergarten.  Kids will participate in activities related to colors, same/different, counting, matching games, and more!
Reading Eggs "Learning to Read" is for kids, ages 3-7.
This level has self paced phonics lessons, and incorporates sight words and a myriad of other phonetic skill that will help kids become more proficient and successful at reading.
Reading Eggs "Mastering Phonics"  is for children, ages 5-10. 
This level incorporates spelling, vocabulary, and comprehension in such a fun way that will keep kids engaged for hours.  This is where kids can put what they've learned into practice, as they begin reading fluently.
Reading Eggs "Building Confidence" is for kids, ages 7-13. 
This is the final level where kids continue with structured comprehension lessons, games, and an online library!
 By the time children are at this level, they should be proficient in reading using phonics, and reading fluently.  Reading Eggs also offers, Mathseeds,  a unique way to teach the basic concepts of math in such an easy format that kids shouldn't have any trouble using.  They also offer workbooks that are easy to use, and very informative.
Pricing:
Reading Eggs is offering a free 30 day trial offer to see if this would be the appropriate program for your child/children!
After this, they offer different pricing plans to choose from, including bundles.
1.)  Monthly-$9.99  This includes access to each of the 4 levels of Reading Eggs for as many as 4 children, as well as Mathseeds.
2.)  12 Month Subscription- $99.99  This includes access to all of the 4 levels of Reading Eggs for up to 3 children, as well as Mathseeds.  This is probably the best value.  This totals about $8.33 a month.
3.)  All Access Family Plan- $89.00   Included in this plan are all the levels of Reading Eggs for 2-4 kids, as well as Mathseeds.  This comes out to $7.41 a month. If you're interested in giving Reading Eggs a try, simply click this link. Or, you can visit readingeggs.com!
Hooked on Phonics
In another post, I give a detailed description about the Hooked on Phonics Learn to Read program.  I hope you'll take time to read it. This wonderfully based phonics program has been around for a while now!
The philosophy behind this program is really very simple:
Learn
Practice
Read
Celebrate
Hooked on Phonics begins with emergent readers, and carries kids on until the completion of 2nd grade.  As a child shows mastery on a certain level, they can then progress to a more difficult stage.
This program teaches the letters/sounds of the alphabet, rhyming words, and progresses to word families, digraphs, phonetic blends, and so much more.
I love this program because it has been around for so long, and is well trusted with parents and caregivers, who just want to get their kids up and reading successfully.
Please be sure to check out my post about the Hooked on Phonics Learn to Read program.  This is definitely one easy way to teach your child to read with phonics, with very little effort on your part!
Pricing:
Pricing for Hooked on Phonics:
You can get the Hooked on Phonics program on Amazon.com. Pricing can vary, depending on which set  you choose.
I sincerely hope that you will find the right online program to help get your kiddos up and reading!  If you have any questions or comments, please leave them below or send me an email at kidscanlovetoread@gmail.com, and I will get back with you as soon as possible.
I wish for your child the very best, as he/she continues down this pathway of learning:)  And as always…Happy reading to you and your child!
Blessings:)
Suzi